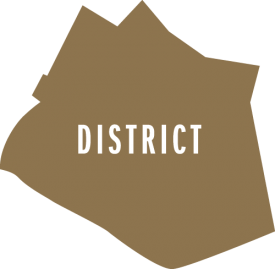 In my dictionary, family is defined as people who share food.
hansen lee executive chef
Hours
BREAKFAST
M-F 6:30 am
S&S 7:00 am
DINNER
5:00 pm – Midnight
BAR
2:00 pm – Midnight
Visit
711 South Hope Street, Los Angeles, CA 90017. VIEW MAP
2 hours free validated parking offered through The Sheraton Hotel. Enter through the lobby and take elevator to Plaza (P) Level.
At DISTRICT not only do we make use of the extraordinary foods grown sustainably by our local farmers, we also seek out unparalleled ideas from food purveyors around the world. For us, farm to table means products that are created on a small scale by farmer-artisans who are strangers to compromise, and have, through passion and invention, further dimensionalized the culinary arts. With this worldly palette of the fresh, the natural, and the superior, we create combinations and juxtapositions of flavors that are wonderfully intuitive and modern. The bar is equally inspired, and produces hand crafted cocktails that dazzle the senses and intensify connection. DISTRICT'S design philosophy mirrors its deliciously unexpected approach to food and drink. The resulting atmosphere is a marvelously curated art meets craft, past meets future vibe that is wholly enticing and utterly original.
fig 1-2 Los Angeles, circa 1889, with downtown indicated in gold
In my dictionary, family is defined as people who share food.
hansen lee executive chef