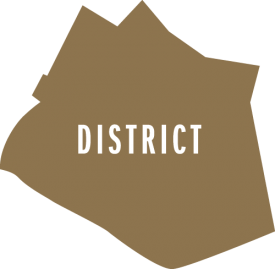 Reservations
Please join us on 3rd floor Deck for an outdoor dining experience or District restaurant for an indoor dining! We currently do not accept reservations.
Don't forget to check out our wine and cocktail specials.
Hours
Breakfast: 7am-10am
Lunch: 11:30am-2pm
Dinner: 4pm-10:30pm
Daily Happy Hour: 4pm-6pm
Guests must wear a face covering and use hand sanitizer upon entering the restaurant. Please stay 6 feet away from other customers and staff as much as possible.
Order Online
Private Events
Adjoining the dining room is our highly adaptable PRIVATE DINING ROOM that can seat up to 30 guests for dinner or up to 50 guests for a stunning cocktail reception. For corporate meetings, the Board Room set-up can accommodate private gatherings for up to 16 guests.
To receive more information about our private event options, please contact us:
213-612-3185
EMAIL US
Visit
Located on the *Plaza Level* inside * The Bloc* at *700 W 7th St, Los Angeles, CA 90017*. VIEW MAP
DISTRICT offers discounted validated Self-Parking at *The Bloc (Macy's) Parking
Structure*. Please enter on Flower Street just before 8th Ave.
SELF-PARKING @ The Bloc – Validated Rates:
1st hour = $1.00
2nd hour= $2.50
3rd hour= $4.00
4th hour and up standard daily rates apply
Please Note, Discounted 2 hour
Valet Parking is also available for $8 through *The Sheraton Grand Hotel*, Enter at 711 S. Hope St. and take the elevator to Level P
Order Online
At DISTRICT not only do we make use of the extraordinary foods grown sustainably by our local farmers, we also seek out unparalleled ideas from food purveyors around the world. For us, farm to table means products that are created on a small scale by farmer-artisans who are strangers to compromise, and have, through passion and invention, further dimensionalized the culinary arts. With this worldly palette of the fresh, the natural, and the superior, we create combinations and juxtapositions of flavors that are wonderfully intuitive and modern. The bar is equally inspired, and produces hand crafted cocktails that dazzle the senses and intensify connection. DISTRICT'S design philosophy mirrors its deliciously unexpected approach to food and drink. The resulting atmosphere is a marvelously curated art meets craft, past meets future vibe that is wholly enticing and utterly original.

DISTRICT is the proud recipient for the 2016 Gold Key Awards:
EXCELLENCE IN HOSPITALITY DESIGN
1st Place – BEST RESTAURANT DESIGN – CASUAL DINING
Designer – COLUM McCARTAN
DISTRICT is proud to have been selected by OpenTable for the Diner's Choice Award 2020, 2019 and 2018.